German-English translations
Deutsch-Englisch Übersetzungen in Australien seit 20 Jahren
Whether you require the translation of a document for immigration purposes by a NAATI-accredited professional translator or ongoing German-to-English commercial, legal or technical translation support as a crucial aspect of your business activities, German Translation Online can provide a timely solution to fulfil your highest expectations.
We pride ourselves not only on the quality of our German-to-English translations, but also on our commitment to understanding the precise needs of our clients. Discussing such issues as the context, purpose and target readership of each of your translated documents allows us to optimise costs and turnarounds without compromising on quality.
Whatever your translation needs, you can rest assured that our team of highly respected and experienced translators will produce texts that are accurate, stylistically appropriate and reasonably priced.

Please call or e-mail Michael (an AUSIT Senior Practitioner and IHK Übersetzer) with NAATI accreditation about your translation needs today.
Mobile: 0414 400 508 Email: mail@german-translation.com.au
Compare our turnarounds and prices: Multicultural NSW fees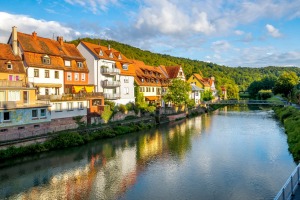 Learn all about the German language
German university: Westfälische Wilhems University in Muenster, North-Rhine Westphalia
Mayday Mayday - We are sinking!
Funny Berltz ad

Spanish town embarrassed by Google Translate error:
A town hall in northwestern Spain was left red-faced after a Google Translate error led to it advertising its local leaf vegetable celebration as a much more X-rated affair, i.e. a 'clitoris festival'!
Machine translations
A great incentive to use human translations - when you read the comments below this machine translation agency's attempt at outsmarting Google Translate! Watch the video and then read comments here.
Auf Deutsch
Seit fast 20 Jahren vertrauen Kunden im In- und Ausland auf unseren zuverlässigen Service bei
German Translation Online.
Wir können mit Stolz behaupten, dass wir aufgrund unserer langjährigen Erfahrung im Bereich Deutsch-Englisch Übersetzungen zu den renommierten und führenden Deutsch-Englisch Übersetzungsbüros in Australien gehören.
Unser gesamtes fremdsprachliches Leistungsspektrum steht zu Ihrer Verfügung. Sie erhalten in unserem Übersetzungsbüro Deutsch Englisch Übersetzungen in allen Fachgebieten.
Testimonials
See what our customers say on:
and some email comments:
Michael – ausgezeichnete Arbeit. Many thanks – what a pleasure to read natural sounding English target texts that don't sound like a translation. Fab work!
[Tea D, 2M Language Services, 10/2018]
Hi Michael,
Sigfried und ich waren sehr froh und super zufrieden mit der Übersetzung! Vielen herzlichen Dank!
[04/2016]
Hi Michael,
Thank you for the fantastic and quick work.
I am very impressed and happy with the translation.
[Maggie, 05/2015]
Dear Michael,
Thank you very much for completing the translations so quickly. It is greatly appreciated.
Kind regards,
[Lauren R. - Aldi Australia]
Ich möchte mich bei Ihnen und dem Uebersetzer ganz ganz herzlich für die super Arbeit bedanken.
Die Slides sind absolut super!
[RoNexus client - Hoffmann-La Roche Ltd]

Thanks Michael, for all your extra efforts on this one. It's much appreciated.
[Christine W]
Dear Michael,
Thanks a lot for the excellent job you have done, not only with the translation as such but also with respect to the inconsistencies in the German text. I have now gone through all your footnotes and your remarks were really helpful.
[Dr. Jürg S., Switzerland]

I'm very impressed that you followed it up with me; shall recommend your professionalism to my friends and associates...
[Hugh G.]
Some more comments from satisfied customers:
- "Hi Michael, Thank you again for a great service!" (Felicity, August 2012)
- "Thank you so much for the information and the translation again." (Andre, July 2012)
- "Hi Michael, Thanks for getting them done so quickly!" (Justine, July 2012)
- "Thanks Michael for your excellent work." (Chris, June 2012)
Keywords:
Language Services
Translation service Sydney
Professional German Translator
Urgent German translation services
English German translator
German to English translations
German native translator
Fast German translator
German translator Sydney
German translator Melbourne
Document Translation Sydney
German translator birth certificate
German Translation Services
NAATI translator German
NAATI Translation Services
Translate German to English
Certificate translation
Transcript translation
Sydney Migration Translation
Certified German translation
Translation Services Sydney
Legal translation service
NAATI German Translator
German student translation service
Official German document translation services
German translator service
School Certificate Translation
Financial Translation Services
German DTP Services
German Technical Translation
German Medical Translation
NAATI Translators
Legal document translations